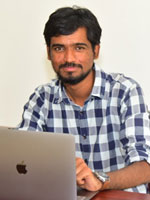 Mr. Anudeep Gujjeti
Research Associate
Mr. Anudeep Gujjeti completed his M.Phil. in Political Science from University of Hyderabad and is currently pursuing Ph.D. in Department of Political Science from the University of Hyderabad. He earlier has worked on Democratic Transitions in South Asia and is currently working on India and Japan relations.
His research areas include South Asian politics, East Asian politics, India and Japan relations, India and Afghanistan, Indian Foreign Policy, Non-traditional security threats, International organizations, Democratic Transitions and Public Policy.
Worked as consultant at CSD, Hyderabad for Telangana Governments Sustainable Development Goals Vision 2020 document.
Worked as consultant at CSD for a project titled "Sustainable Development Goals: Status Report on Child related Indicators in Telangana state" April 2021 to August 2021. Sponsored by MCHRDI and UNICEF.
Convening a two-day national seminar on the "Status of Health Indicators in Telangana Since 2014" on 25-26 November, 2021 funded by ICSSR, Government of Telangana, Reserve Bank of India.
Working on "One District One Product: Challenges and Opportunities" policy brief.
Presented a paper titled "The Afghan Factor in Indo-Pak Relations and Its Implications to Regional Security" in a national seminar on "The India-Pakistan conflict: assessing India's options" organized by Department of International Relations and Politics, School of Global Studies, Central University of Kerala, Kasaragod on 20th and 21st March 2017.
Presented a paper titled "Situating Human Rights In The Present International Milieu" in the national seminar on "Human Rights" organized by Kakatiya University on 30th and 31st March 2017.
Presented a paper titled "Democratic Transitions in South Asia" in a Tri-department National Seminar on "Challenges of Development, Governance and Democracy in South and South East Asia" Organized by Department of Political Science, Department of Economics and Centre for Urban Economic Studies, University of Calcutta Under the aegis of UGC-UPE II: India Looking East on 4th and 5th January, 2018
Presented a paper titled "India-ASEAN Relations in the Changing Security Architecture of Asia" in an international conference on "India-ASEAN partnership @25" organized by Gitam School of International Business on 10th February 2018.
Presented a paper titled "China Pakistan Strategic Partnership and its Implications onIndia's Security" in a national seminar on "Emerging Geo-strategic Manifestations in Pakistan: Implications for India" organised by Department of Defence and National Security Studies, Punjab University, Chandigarh, sponsored by ICSSR-North Western Regional Centre on 27th and 28th February 2018
Paper titled "The Idea of Cinema and Indian Diaspora: Reconnecting to the Homeland" in a International Conference on "Indian Diaspora and Transnationalism: Global Perspectives" Jointly Organised by UGC-Centre for Study of Indian Diaspora, Hyderabad & Organization for Diaspora Initiative, New Delhi on 4th and 5th October 2018.
Presented a paper titled "Act East Policy through North East: Challenges and Prospects in New Era of India's Diplomacy" in a National Seminar on "Locating Northeast in India's Neighbourhood Policy: Problems and Prospects" organized by Department of Political Science North Lakhimpur College (Autonomous), under the aegis of ICSSR Delhi in collaboration with Centre for South East Asian Studies, Guwahati University.
Presented a paper titled "Maritime Dispute in the East Asia and the need for Strategic Equilibrium" at the 'Confluence of Two Seas: The Emerging Geopolitics and Geoeconomics of the Indo-Pacific' Conference organized by School of International and Area Studies, Goa University in association with Political Risk and Intelligence Services Management (PRISM) and COVINTS held between March 25th and 26th, 2021.
Participated in the International Relations Scholars' Workshop on "Prospects and Challenges to Development Cooperation in the Indo-Pacific"on July 30, 2021 organised jointly by U.S. Consulate General, Hyderabad and Indian School of Business.
Attended a ten-day "Capacity Building Workshop for research Scholars in Social Sciences" organized by Council for Social Development, Hyderabad from 04.08.2021 to 14.08.2021.
Attended a four-day Online Training Programme on "Effects of Extreme Events on Labour: Challenges and Mitigation" organized by the V. V. Giri National Institute in collaboration with Council for Social development (CSD), Hyderabad, September 27-30, 2021.
Completed basic Japanese Language Course of "Certificate of Proficiency in Japanese Language" from English and Foreign Languages University (EFLU) a two-semester course, 2019-2020