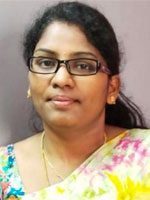 Mrs. Divya Jyothi
Consultant - Health & Nutrition
Mrs.DivyaJyothi is a young nutritionist, with 9+ years of experience in the nutrition industry. Divya has completed her Masters in Nutrition from the reputed "School of Health Sciences", Pondicherry Central University,Pondicherry and M.phil in Food Science and Nutrition from IGNOU.
As? Nutritionist often worked with community settings or local authority public health teams, health service nutrition and dietetics departments focusing primarily on health promotion and worked in association with Molecular connections,Bangalore as Scientific research analyst and also in association with Vlcc,vibes, and in Vcare as a regional Nutritional Manager.Worked as Consultant Nutritionist for The Wellness Corner,California.
Having experience as a Clinical Nutritionist inDiabetes, Heart problems, Obesity, Hypothyroid, Sports nutrition, Pediatric& Geriatric nutrition, Cancer patients, Enteral & Parenteral nutrition, Clinical Nutrition including Liver, Gout, Blood pressure, Diarrheal, Peptic ulcer, Kidney trouble, Jaundice, HIV, Surgery, Lactose intolerance, Trauma, Sepsis, ICU, etc.
Work Experience: My area of research interest is in community nutrition,public health nutrition and clinical nutrition which allow me to performcutting edge research from new discoveries in nutrition science through to translation into evidenced based nutrition best practice within health care.
Her major research areas are Gender and Society, Sociology of Education, Sociology of Muslims and Society and Muslim Women.
Deepthi Krishna Thota (2017): "Uncanny and Dystopian City: An Analysis of Siva", Urbanities, Vol. 7, No.4, Pp 122-137
On Enrichment of yeast leavened Bread by Pomegranate Bagasse powder in international AFSTI journal of Food technology 2012.
Diabetus mellitus by incorporating Yeast leavened bread into sugar fluctuating diabetic patients from PIMS and analysed the sugar level variations 2013.
Has done a project on functional foods through mutant variations from Molecular connections Bangalore from 2014.
Had a three-year certificate programme in Food safety from IGNOU.
Presented and Participated in Three days International Conference on Traditional Foods (Dec 01-03, 2010) held at Pondicherry University with AFSTI Pondicherry chapter.
Participated in Two days National Conference on Agro Food Processing Technologies (Nov 03-04, 2011) held at Pondicherry University.
Participated in one day workshop on Integrated Food Law (03.09.2010) held at Pondicherry University with AFSTI Pondicherry chapter.
Co-Supervised three Interns – Ms.Anushka Sharma, Ms.MeenuRana and Ms.AshuYadav (Safe on the issue of Safe Motherhood in Telangana) during this period.
Participated in the TOT from NRDI on with 3-day TOT programme, Master Resource Persons for Capacity Building of PRIs as Nutrition Advocates from 12th to 14th December, 2022
Participated in the Two-day Training on Social &Behaviour Change(SBC) in Rural & Human Development Programmes for Telangana , NIRDPR, Rajendra Nagar,  Hyderabad.29th December 2022
Conducted AWARENESS Programme in Collaboration with Govt. Junior College, Rajendranagar, Hyderabad, on COGNITION AND BEHAVIOURIAL CHANGES in Women toEDUCATE AND PROTECT TOMORROW on Account of World Menopause Day on 18 November 2022 as a part of AzadikaAmritMahotsav.
As Part of RMC as a resource person, mentor for Health group Research methodology course, from which was Sponspered by ICSSR, conducted in CSD, September 2022
Member, Organising Committee of Two-week Academic Writing Workshop funded by Indian Council for Social Science Research and Government of Telangana, 21 March - 1 April 1 2022
Involved in preparing a write up on Giriposhana, an innovative approach towards improved Nutrition for the chapter on Maternal and Child Care Development, Socio-Economic Outlook (SEO) 2022 of Telangana Government, 21-31 January 2022.