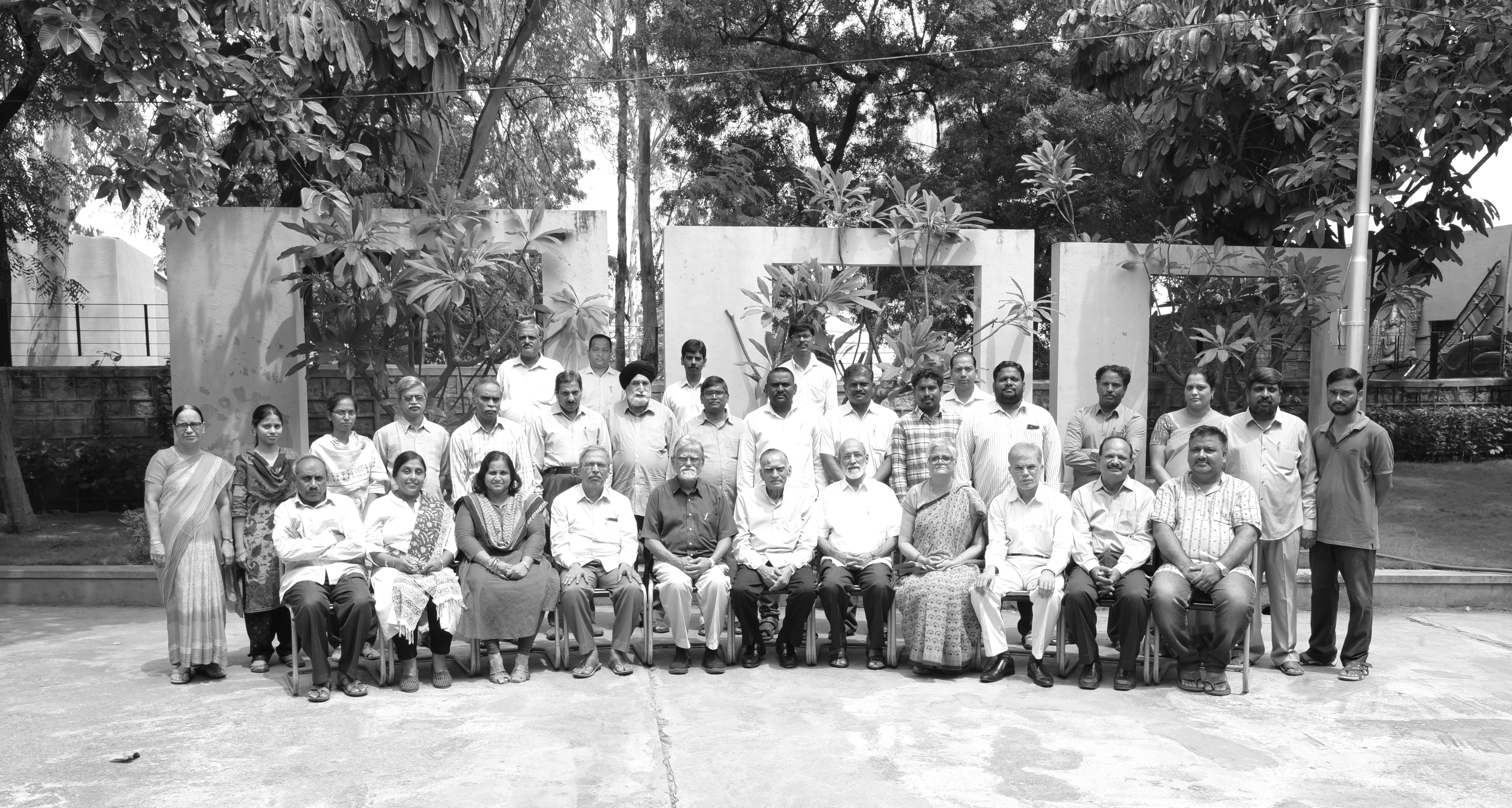 CSD Team
The current research concerns at CSD focus on non-conventional energy and rural livelihood systems, labour markets and social security, poverty and unemployment, urban area studies, intellectual property rights as a development issue [particularly with reference to geographical indications in AP] and adivasi studies. The CSD faculty, although small in number, spread out across these different areas.
Despite the annulment of the Criminal Tribes Act after independence, de-notified, nomadic and semi nomadic tribes in India continue to face systemic social exclusion and criminalization – Dr. Suresh Jagannadham and Dr. Vijay Korra are engaged in a two year ICSSR research programme that focuses on educational attainment among the denotified tribes in nine states across the country; political participation and the shifting domains of dominance and citizen engagement – Dr. Pratyusna Patnaik focuses on power, influence and decision making in the realm of PRI, while Sam Gundimeda's work focuses on processes of democratization, issues concerning the marginalized sections, especially adivasis, dalits and muslims; user associations, forest rights, and displacement]; micro-analyses of economic livelihood support to rural poor communities [focusing on the effectiveness and implications of such support in different sectors – fisheries – Dr. Surapa Raju focuses on the economics of fisheries with special emphasis on interface of technology and livelihoods; watersheds, horticulture, tribal development, village industries, etc. as well as programmes like the NREGA] – Dr. Soumya Vinayan is engaged in socio-economic and legal rights analysis of operation of geographical indications at national and international level. She has been awarded ICSSR-NRCT Fellowship in Thammerstat Uty, Thailand to study GI system in Thailand; environmental economics [with a focus on the mining sector in different states and social impact assessment]; - Dr. Sujit Kumar Mishra is presently undertaking research studies for MOSPI on valuation of coal mining externalities and is commencing work on issues related to mining closure. He is also a recipient of ICSSR NRCT Fellowship at Mahidol Uty, Thailand which looked at the impact of climate change and process of adaptation during natural calamities; agrarian studies [land ownership and use patterns, the range of safety nets to cushion poor agricultural communities from vulnerability and risk] – Dr. L. Reddeppa has been actively involved in undertaking studies with particular focus on adivasis and self-employment schemes; interdisciplinary law – Dr. N. Vasanthi focuses on law as its intersects with labour rights, disability studies, gender studies and financial inclusion.
A major research programme that commenced in August 2011 and will continue for a three-year period is one that focuses on the social and economic rights of adivasi communities. Led by Dr. Kalpana Kannabiran, this programme involves collaborative action oriented, participatory and policy research; rights advocacy and rights education at the community level; documentation of dialogic processes, good practices and problems through film; curriculum development through the formulation of courses for law schools and social science departments in universities; student internship programmes; law clinics on adivasi rights; and strategic litigation -- Mr. Sunder Raj and Mr. B. Ramesh are part of the research team of this programme. Mr. Ch Mohana Murali Krishna and Mr. Tokala Guruvaiah provide the vital link with adivasi communities in the Bhadrachalam and Srisailam ITDA regions respectively, identifying advocacy and training needs and providing local coordination. At a time when adivasi livelihoods are facing systematic erosion, the archiving of livelihood practices is a urgent need. Dr. Modugu Sridhar is currently engaged in a project that attempts to document the history of tribal agriculture in Andhra Pradesh.
Several members of the team work on issues of social conflict, education and gender studies [as a cross cutting lens across all the disciplines and fields CSD works in] and teach in the MPhil/PhD programme in collaboration with TISS Hyderabad.
Needless to say library and information services are crucial to research and teaching. Mr. Satya Nagesh, and Mr. P. Kumar work round the clock to provide effective access and connectivity.
The support for all the academic and research work that is carried out in CSD is provided by our administrative team, led by Mr. K. Sanjiva Rao, ably assisted by a three member secretarial pool consisting of Mr. YSS Prasad, Ms. K. Mahalakshmi and Ms. Lalitha Kumari, and support staff consisting of Mr. Sunil Kumar, Mr. Pratap Reddy and Mr. Mariya Das.