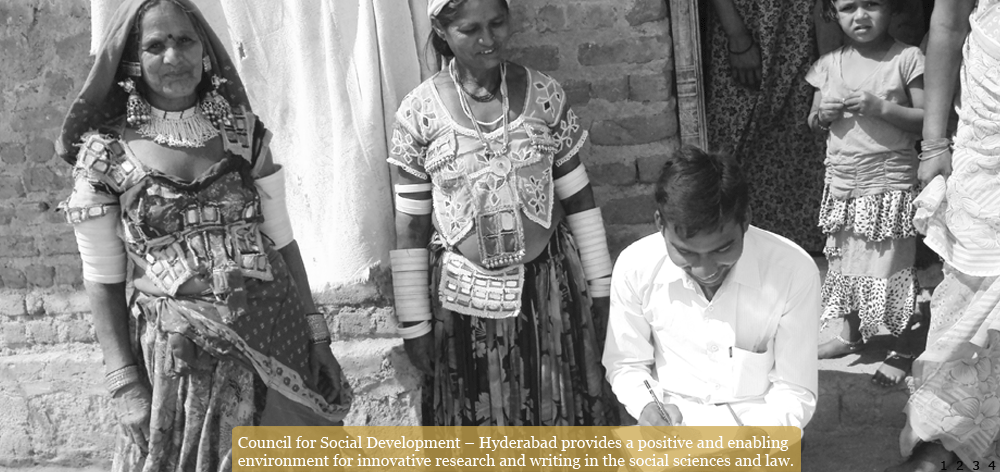 History
The Council for Social Development (CSD) was founded by Dr. Durgabai Deshmukh in Delhi in 1962. The Southern Regional Centre, CSD, Hyderabad, was established in Hyderabad in 1967. CSD was set up as a think tank to keep a focus on the social aspects of development planning and to initiate policy oriented research on the social determinants of development – vital concerns in the early plan periods. Dr. Durgabai Deshmukh, legendary social worker and indefatigable institution builder, gathered around her the best minds to think through human social needs during the frenzied years of nation building. It is this concern for social justice and equity that continues to guide the work of CSD Hyderabad.
The current President of CSD is the distinguished former diplomat Prof. Muchkund Dubey and the Chairman of the Managing Committee of CSD Hyderabad is Prof. Shantha Sinha.
Scientific Policy
The founding basis for research and collaboration in CSD Hyderabad rests in the premise that research in the social sciences and law is by definition a participatory endeavour that draws on a mutually enabling relationship between the researcher and the people whose lives are the subject of research. Comparative studies of different cultures, examination of diverse impacts of policy, and appreciation of diversity in understanding the relationship between the state and people are indispensable to a nuanced understanding of the human condition. Any inquiry into questions of justice, equity and social development must be based on challenging orthodoxies in the practice of social science and challenging orthodoxies in development practice and cultures. CSD encourages new practices in research and intellectual engagement that are based on non-hierarchical international collaborations and exchanges; and social action based academic endeavours in relation to communities that are marginalized and vulnerable.
Organisation
Registered under the Delhi Societies Registration Act, Council for Social Development is led by an Executive Committee and Governing Body in Delhi. CSD Hyderabad is an autonomous institute governed by a Managing Committee that takes all decisions related to academic and financial administration of CSD Hyderabad and reports annually to the Executive Committee and Governing Body in Delhi. The Managing Committee of CSD Hyderabad includes some of its sponsors - the Government of Andhra Pradesh and the Indian Council for Social Science Research.
The Academic Committee of CSD is a non-statutory body that advises CSD on research and academic initiatives and works in close consultation with the Director and faculty of CSD Hyderabad. Finally, the faculty and non-academic staff of CSD are together responsible for creating the appropriate environment for research and other initiatives at the institute.
Being a transparent institute committed to equal opportunity and fair and just conditions of work, CSD Hyderabad has an Information Officer in compliance with the Right to Information Act and a Sexual Harassment Complaints Committee in compliance with the guidelines of the Supreme Court of India on Sexual Harassment at the Workplace. In addition, CSD, as Principal Employer, closely monitors the terms of employment of contract workers on its campus, placing the condition of fair wages and terms on contractors.
Infrastructure and Support Services
CSD has research, library, information systems, administrative and support staff strength of 22, as well as dedicated teams for gardening and housekeeping services. Several members of the support staff have been with CSD for periods ranging from three to ten years and provide efficient support to research, training and teaching programmes.
CSD is housed in its own 1.25-acre campus in the institutional area in Rajendranagar, Hyderabad. A spacious and well planned building with well maintained, sustainable green environs; internet access and connectivity; lecture halls and auditorium with residential facilities accessible in nearby institutions in the agricultural university campus and NIRD; and a modest library.